Carbon Fibre Custom Parts
Our manufacturing and machining facility is ideally suited to the production of prototypes and small batches of custom components, machined from our carbon fibre sheet stock. For more information please click here to go to our carbon-fibre.com home page or click here to go to our fibre-lyte.co.uk home page
You will find that with our set up of in house composite sheet production, CAD/CAM design and CNC machining we can quote unbeatable production rates - whatever the size of the order.
The following are a few examples of custom components we have made:-
Model cars - chassis components
Model helicopters - side frames and tail fins
Model boats - bulkheads and mounting plates
Motorbikes - clock mount brackets, guard plates etc.
Road cars - dash panels, speaker mounts, kick plates, body panels, bonnets
Racing cars - dashboards, composite foam sandwich components e.g. wing end plates
Hi fi - stacking shelves, speaker front panels.
The above examples are mostly flat components machined from standard sheet, but we can mould parts and then finish machine the components.
Above- Carbon epoxy foam sandwich wing end plate and custom dash panel for rally cross car
We are producing and retailing a range of stylish carbon fibre products that can also be customised for clubs and businesses.
| | |
| --- | --- |
| Wine glass / coffee mug coasters ( 4 coasters plus machined wooden holder ) - Note: these parts can be customised with your own logo, a minimum order would apply. | |
| Porsche 944 door entry kick plates | |
When supplying drawings for programming / prototyping please try to include all dimensions. The two drawings shown use our preferred style of dimension.
It is helpful if you can show the hole dimensions on one drawing and profile on another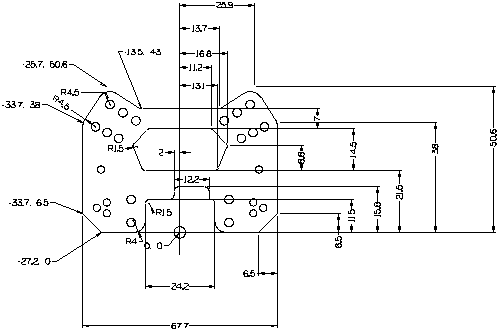 The left side of each drawing shows dimensions by X,Y coordinates and corner rads, this style is preferred as we programme all parts by this coordinate system.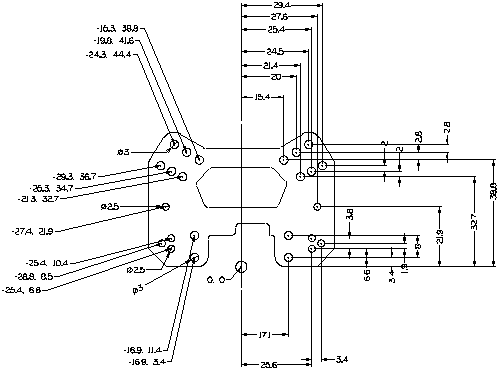 If your drawings are on a CAD package you can output them as DXF format and send them on disc or as an E mail attachment (use PKzip / WinZip to compress the files).
If you don't use the coordinate system please try to show the majority of the component dimensions from a fixed datum point i.e. the centre / bottom of a symmetrical component. Please show at least one dimension to check scaling errors.